The Best Dumpster Rental Owensboro KY Has to Offer
We have the #1 dumpster rental Owensboro KY residents & contractors can't get enough of! Book affordable roll off containers online or over the phone and get started on your residential or commercial projects today. Our team is the go-to choice for local waste management on a short or long-term basis. Let us show you how an affordable and efficient roll off container can help you complete your next project.

WKY Dumpsters is a local veteran-owned company committed to providing excellent service to the community of Owensboro, Kentucky, and the surrounding areas of Ohio County. Friendly customer service and well-maintained equipment are why contractors and homeowners rely on the dumpster rental Owensboro KY has to offer to get their jobs done. We've been helping homeowners and business owners contain their garbage from cleanouts and projects for many years and have built a reputation as a reliable and cost-effective provider of dumpster rentals and junk removal services. One call to our knowledgeable staff and you're on your way to having the convenient and cost-effective solution to your waste disposal needs.

It couldn't be easier to reserve your dumpster rental Owensboro KY uses for all projects by using our online system. Select the container of choice, set up your delivery date and location, and pay in one easy transaction. If for any reason you would rather speak to a helpful customer service rep and complete the reservation over the phone, it's no problem. Call us at (270) 608-2106 and we will help you to get the container you need for your waste disposal. At WKY Dumpsters, we are committed to your complete satisfaction with our rentals and want you to be our next happy customer. Call or go online today!
Use a Dumpster Rental in Owensboro KY for Commercial or Residential Projects
Our dumpster rental in Owensboro KY is the answer to your waste disposal problems. Homeowners tackling the cleanout of unwanted items and trash after years of accumulation find our containers to be a life saver. Don't put off clearing out the junk in your life because you just don't know what to do with it. Give us a call and we'll deliver the solution!

Contractors and business owners use our roll off containers for waste containment and disposal for their commercial spaces and job sites. Our reliable service will come through for you too when you have a project with debris to contain and trash to dispose of. Whether you're managing a new housing addition or are looking for ongoing waste management support for your restaurant, we're here to help.

When you use a dumpster rental in Owensboro KY with our experienced and professional team, you can rest assured your waste is being disposed of properly. We regularly work with Ohio County Landfill to ensure all waste is dumped responsibly and ethically in accordance with city, county, and state regulations. If you have an abundance of waste to load and haul away and are in need of extra support, we're the all-inclusive trash hauling company that can help. Check out our junk removal services and let us manage all of the heavy lifting! Book your container or junk removal services online today.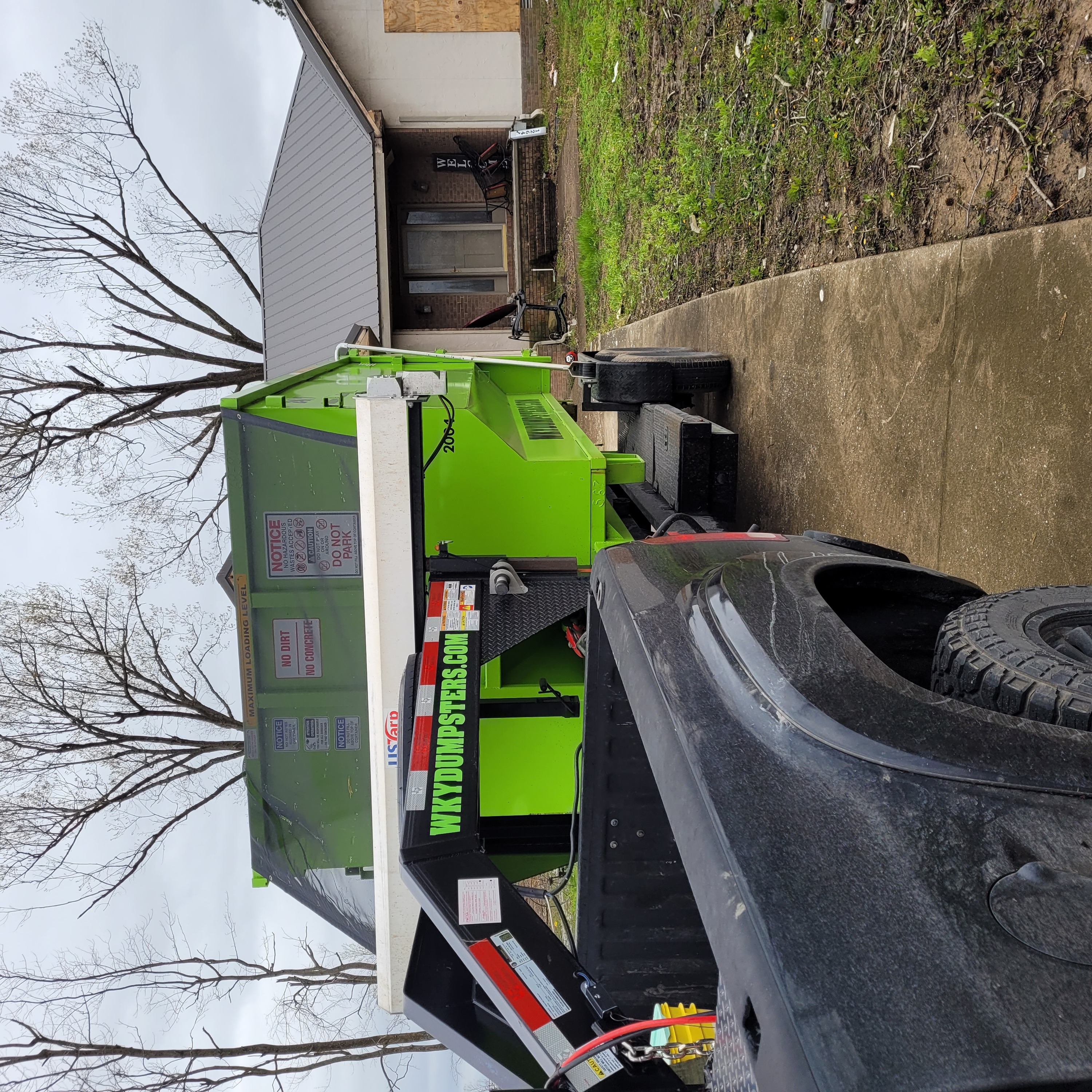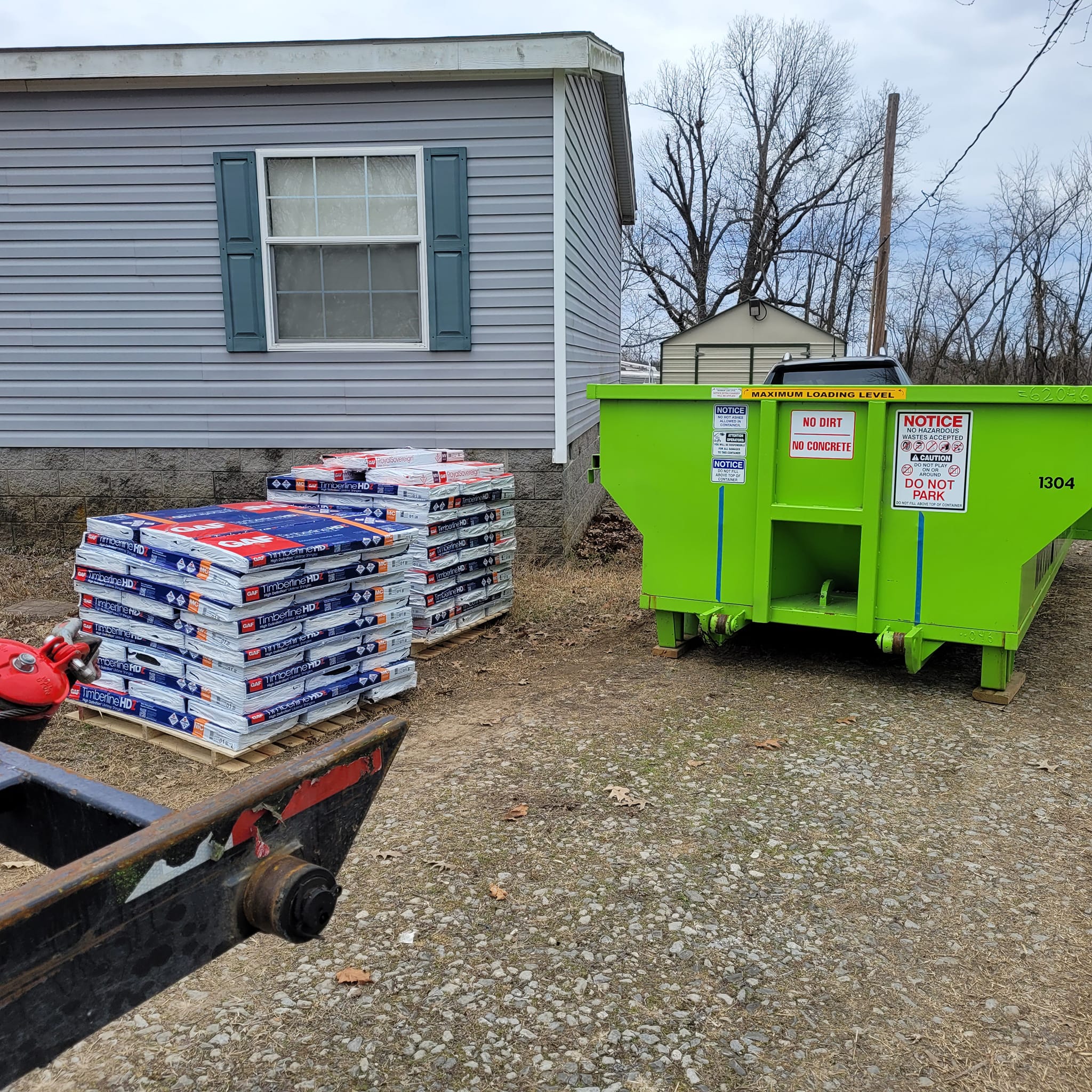 Residential Dumpster Rental Owensboro KY Homeowners Rely On
Reserve the house dumpster rental Owensboro KY homeowners use for all of their residential projects with a few easy clicks today! Make better use of your space, clear out the junk from the garage or attic, and remove any broken or unwanted furniture to see the possibilities you have in your home. Downsizing to a smaller home, moving to an assisted living facility, or cleaning out a hoarding situation are all achievable with the help of our affordable, convenient, and versatile container selections.

When you're ready to tackle that household cleanout, we are here to help with the roll off dumpster rental Owensboro KY can rely on. We will deliver a budget-friendly container to your residence for you to load at your convenience, then we'll haul it away and get it out of your hair in no time! Reserve your container online or give us a call at (270) 608-2106.
Yard Waste Dumpster Rental Owensboro, KY Homeowners Use for Outdoor Projects
Book the dumpster rental Owensboro, KY homeowners use for yard waste and various outdoor projects today! Clean up after a storm and remove all the debris from trees or broken fencing with a convenient container rental. Our heavy-duty bins are equipped to haul away tree limbs, stumps, fallen branches, lawn trimmings, brush, roofing materials, and general debris.

Tear off the old deck and replace it with a new one, repair your roof, redesign your flower beds, or manage a large commercial landscaping project with the help of our durable containers. Sometimes our traditional lawn waste pickup bins just won't cut it. Save yourself several trips to the landfill by utilizing one of the residential dumpster rental Owensboro KY can rely on to haul away the mess so you can focus on increasing the curb appeal of your home or rental property.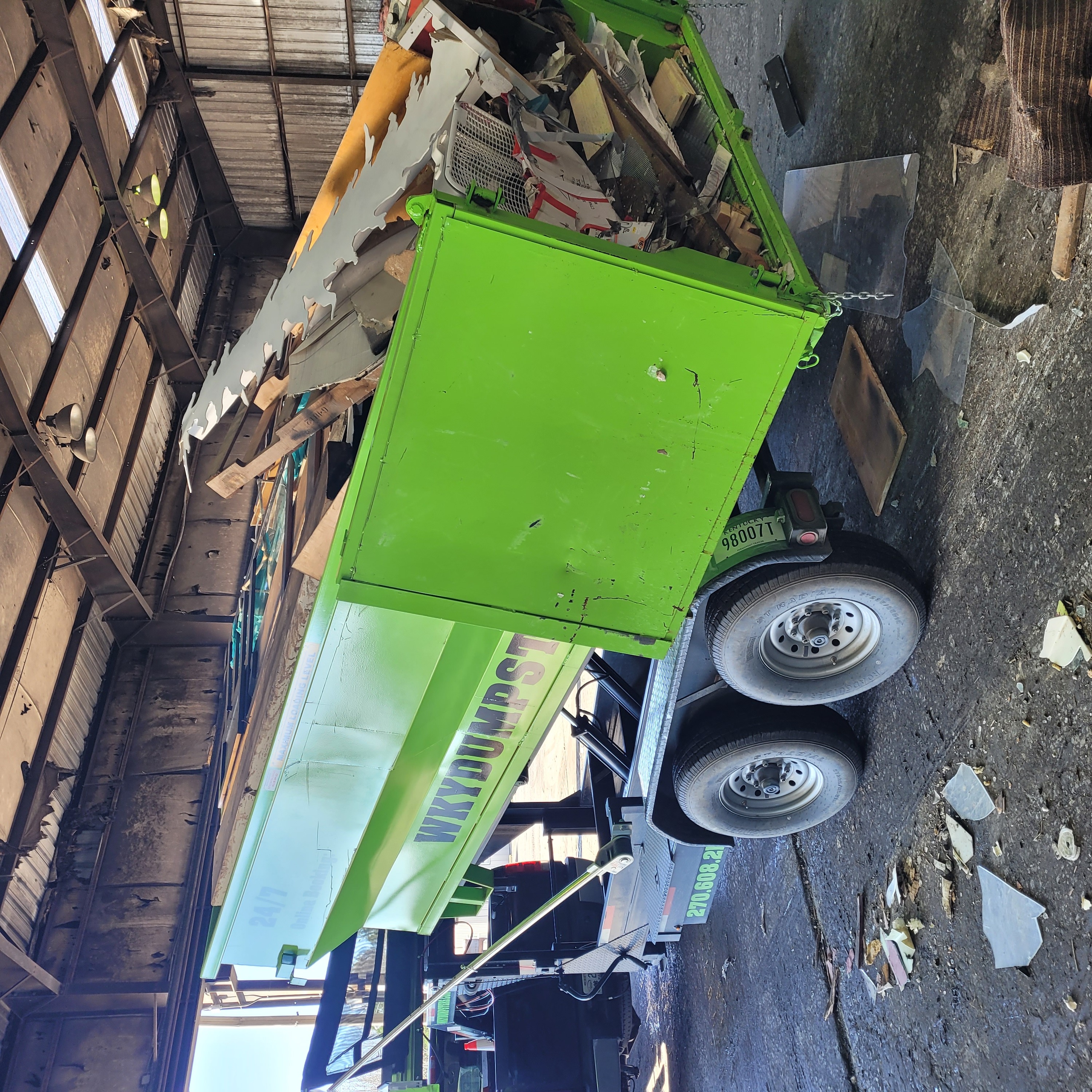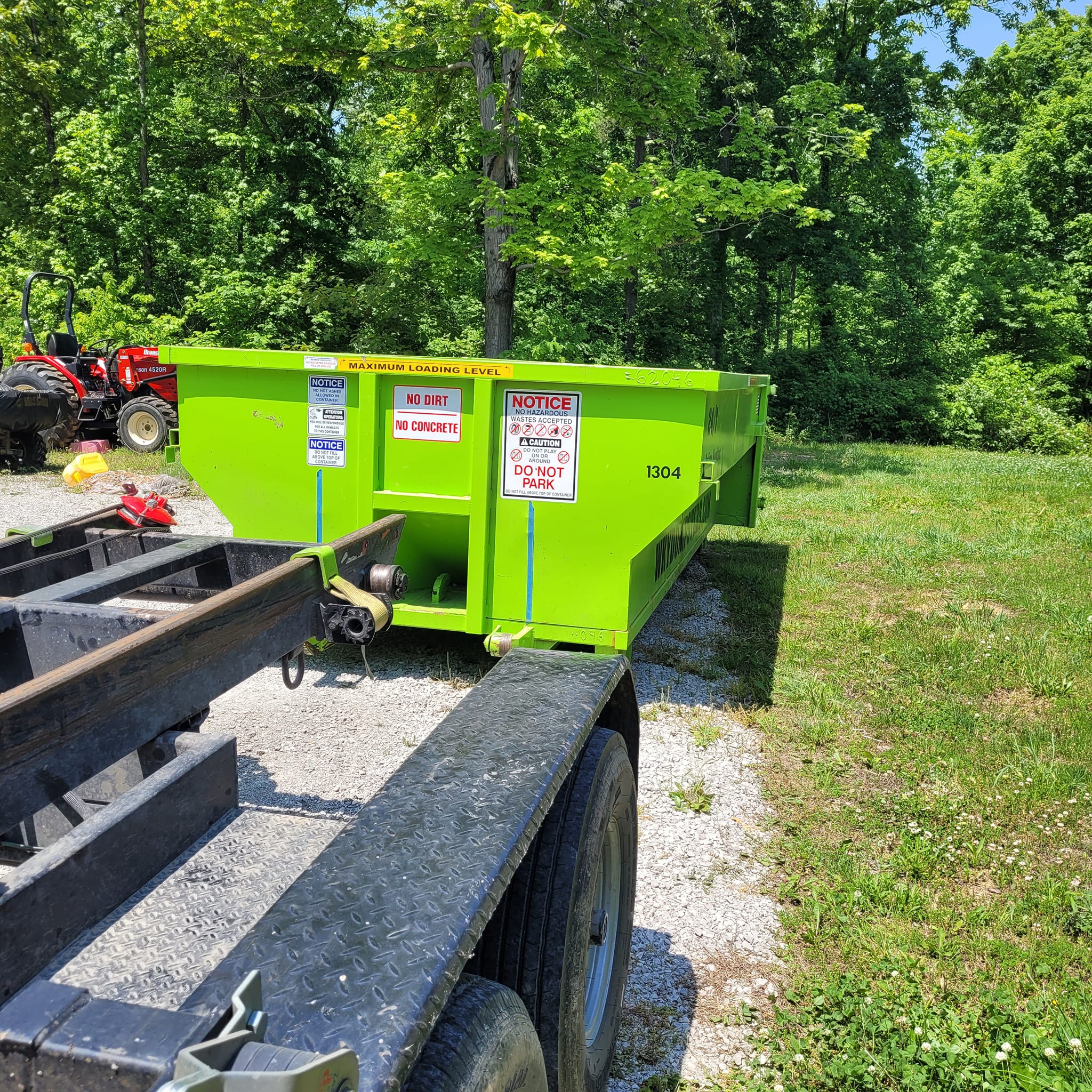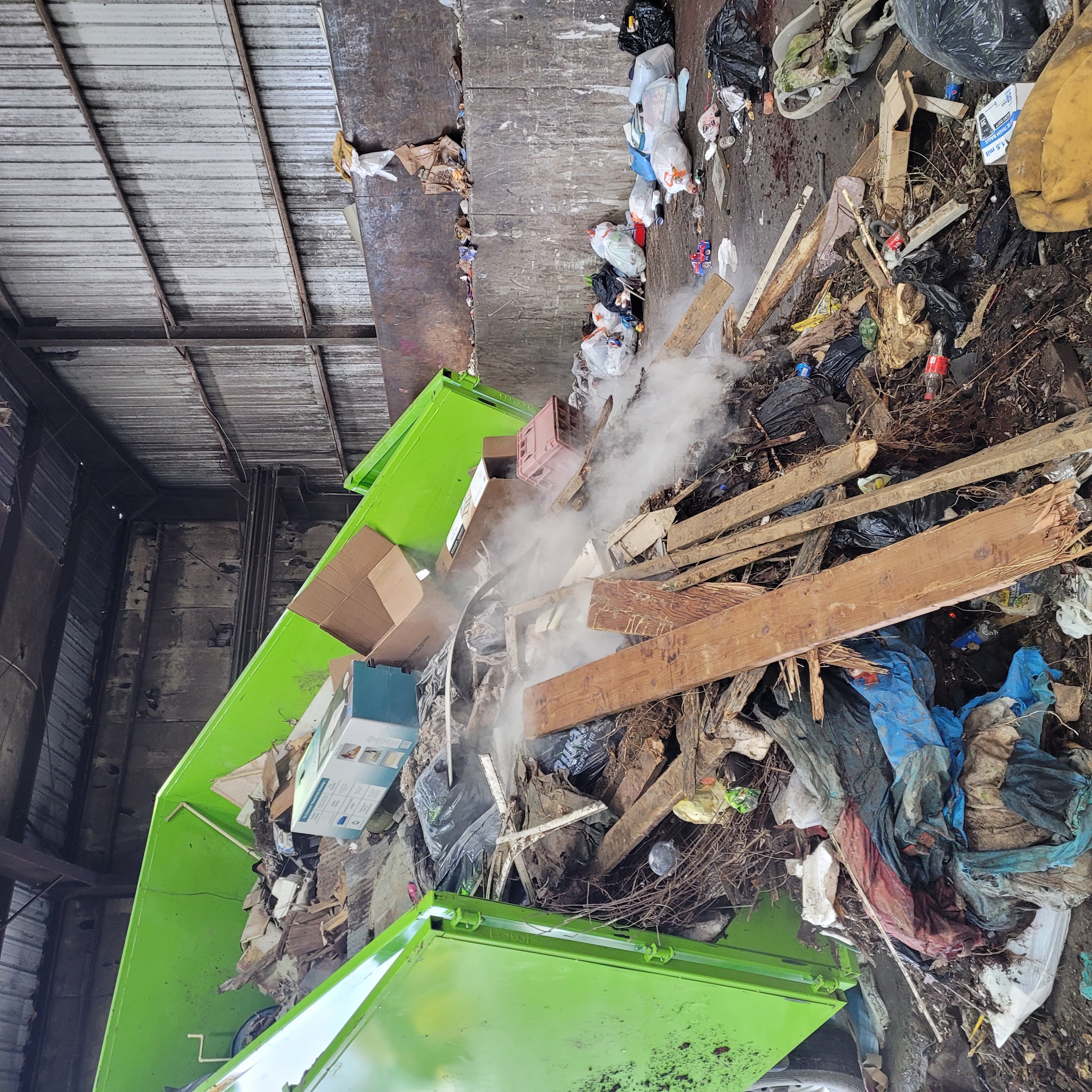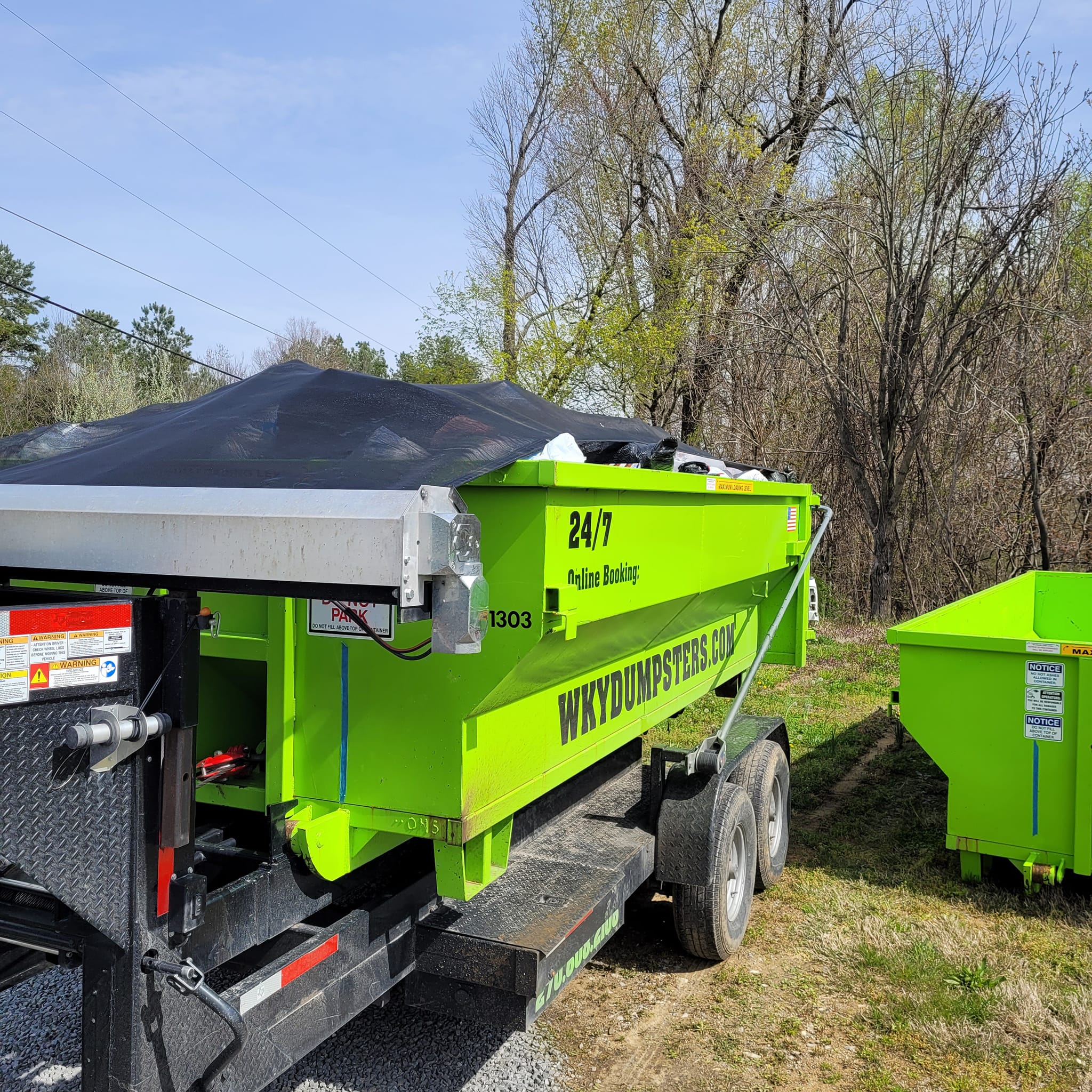 Construction Dumpster Rental Owensboro KY Contractors Depend On
We have the selections for a construction dumpster rental Owensboro KY contractors trust to help them get the job done right the first time. Having a heavy-duty container available to handle all of the debris from a job site is essential to the safety of all involved. Our durable containers are built to haul away a range of waste including roofing shingles, lumber, plastic, metal, or tile. Just throw it in the bin and we will haul it away once you give us a call.

Project managers may need a long-term bin or a 1 day dumpster rental Owensboro KY construction professionals can trust. We do our best to accommodate all of our customer's changing schedules by offering speedy delivery and ensuring responsive communication from our team.

If you're wondering what the typical length of time construction dumpster rental Owensboro KY is, we're here to help! Receive a custom quote for your specific commercial needs by giving us a call today at (270) 608-2106 or book through our website using your smartphone or tablet while on the job!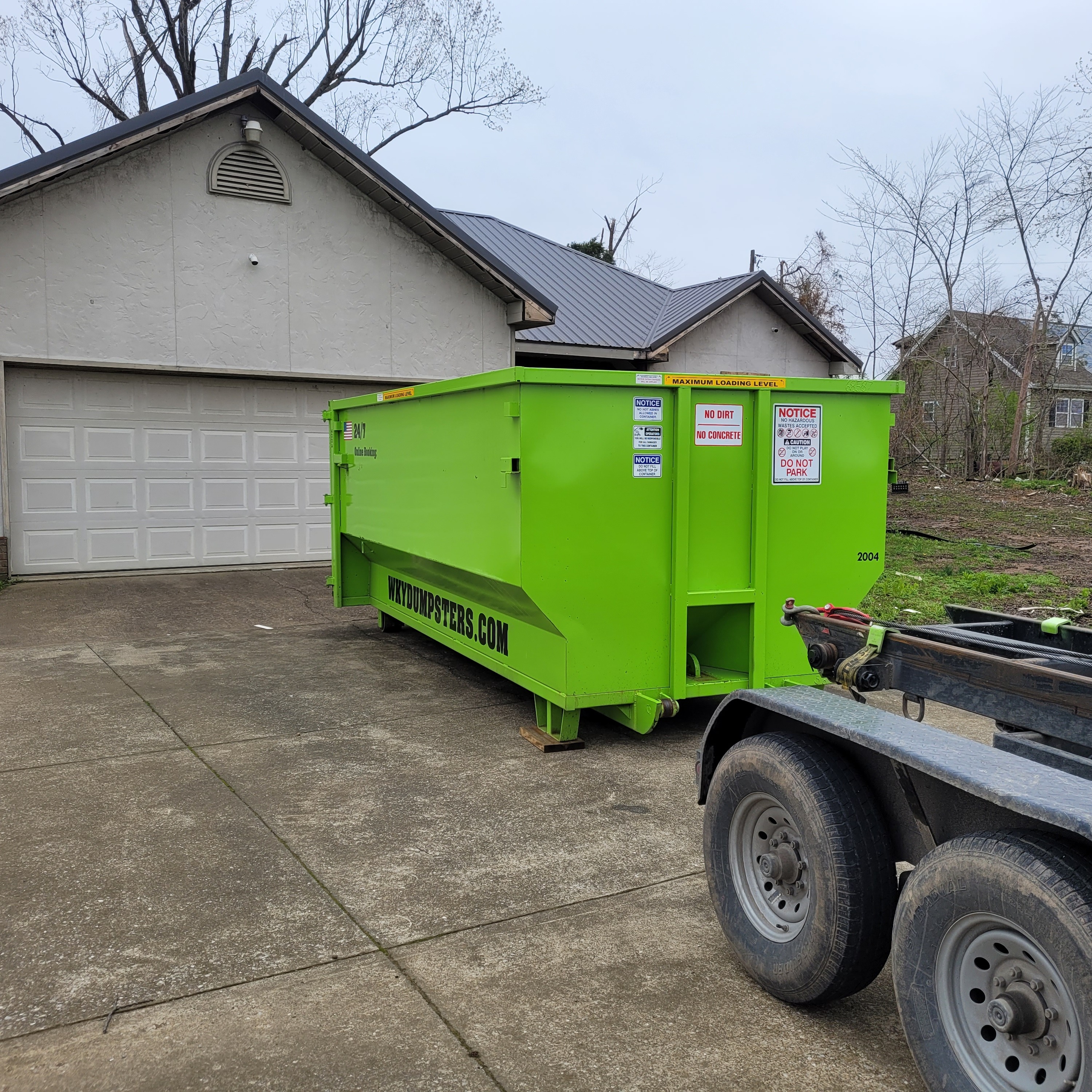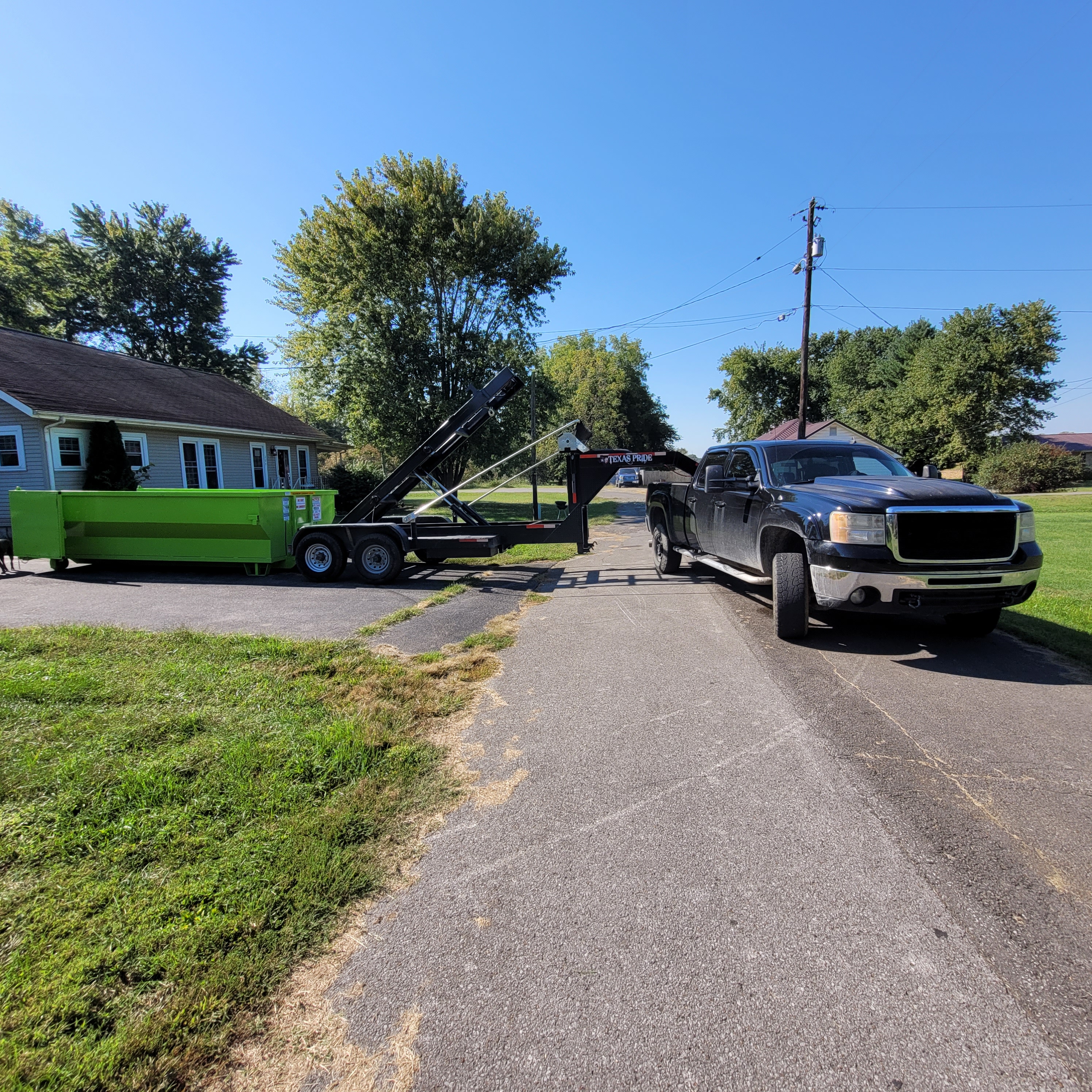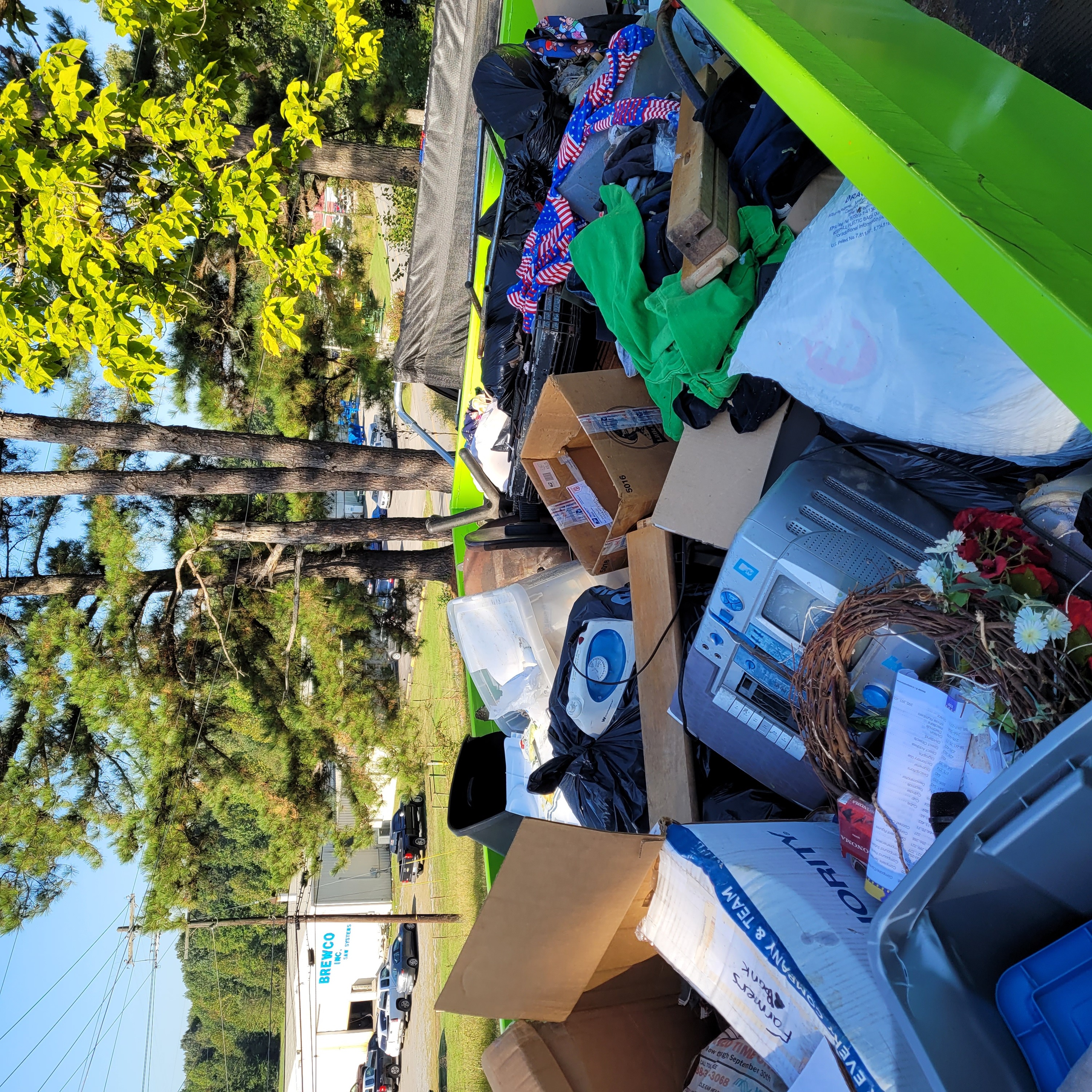 Commercial Dumpster Rental Owensboro KY Business Owners Can Trust
Choose the commercial dumpster rental Owensboro KY business owners rely on to keep their spaces free from trash and loose debris. Having a dependable trash service for your business is non-negotiable. We regularly work with hotels, apartment complexes, restaurants, banks, office parks, facilities, factories, and other commercial properties to provide short and long-term waste disposal solutions at an affordable rate.

Whether you manage a restaurant and need ongoing waste management or are helping clear out a residency hall for the new semester, our selections for a budget dumpster rental Owensboro KY business owners and managers can trust will support your commercial needs in an efficient and dependable way. Give us a call at (270) 608-2106 and let us set up the best schedule for your business operations.
How to Book A Owensboro KY Dumpster Rental
Our team has made it a breeze to get the perfect Owensboro KY dumpster rental you need to help you get your upcoming project completed in a convenient and affordable way. We offer two options for reserving a container while on the go: Give our team a call at (270) 608-2106 or use our online booking tool to schedule a rental with a few simple clicks.

Our team is always available to help answer questions and make recommendations for your particular waste removal needs, so don't hesitate to reach out today! If booking online, follow the steps below and be on your way to receiving your container in no time:

1) From any page of our website, click the bright green "Book Now" button, then click the green "Pick Your Rental" button to view our selections.

2) Click into each individual size with the "More info…" button to view dimensions, price point, additional tonnage or weight, fees, and other pertinent information. Once you've found the perfect Owensboro KY dumpster for your project, click the green "Schedule Now" button.

3) Enter your service type, contact information, and location for bin placement.

4) Submit your payment information using our secure payment system, we accept all major credit cards for your convenience.

Once you've submitted your payment, you'll receive an email confirmation with a digital copy of your receipt and one of our team members will be in touch leading up to your rental date to confirm a delivery window that works for you. We understand many folks are searching for a cheap dumpster rental Owensboro KY can rely on, but along with affordable rates we prioritize offering high-quality equipment, on-time delivery, and helpful customer service. WKY Dumpsters is locally veteran owned and committed to providing accessible options to our community. Book your rental today!
We Take Just About Everything
Some examples of the junk we haul away include
Refrigerator Disposal

Garbage Removal

Mattress Disposal

Foreclosure Clean Outs
Construction Waste Removal

Yard Waste Removal

Trash Removal

Appliance Removal
Television Disposal & Recycling

Furniture Removal

E-Waste Disposal

Hot Tub Disposal
Small & Large Dumpster Rental Owensboro KY Sizes & Prices
Choose the best options for a small and large dumpster rental Owensboro KY uses for all of their projects with WKY Dumpsters! We're the go-to choice in the area for contractors, homeowners, and property managers because we go above and beyond for our customers with each and every rental. Take a look at our container sizes and prices below, and feel free to get in touch with any questions by giving us a call or reaching out through our website.

13 yard: This container rents at $275.00 and is suitable for dense or heavy materials, concrete, or stacked items. This bin is up to a 3-day rental with additional days at $25.00 per day. Measuring 14' long by 7' wide by 4' high, we regularly rent out this container for residential projects including garage cleanouts, bathroom renovations, downsizing or removing broken appliances, and other uses. If you've been searching for a 10 yard dumpster rental in Owensboro KY, chances are the 13 yard is the perfect fit for your project!

20 yard: This container rents at $425.00 and is suited for bulkier items and loose-packed loads. This bin is up to a 7-day rental with additional days at $25 per day. Measuring 14' long by 7' wide by 6' high, this is the large dumpster rental Owensboro KY contractors trust to help keep their work sites waste-free and on the right track. This is the perfect sizing option for a commercial office park cleanout, large foreclosure, hoarding cleanup, or single-room remodel or renovation.

Whatever your needs are for a large trash dumpster rental Owensboro KY residents and business owners can depend on, we have no doubt we carry the convenient and cost-effective solution to your waste disposal needs. Book your container now through our website or give us a call at (270) 608-2106 to learn more about our services!
Dumpster Rental Near Owensboro KY
If you've been searching for a dumpster rental near Owensboro KY, you're in the right place! Along with providing affordable, dependable service to Owensboro and Davies County we also serve Beaver Dam, Hartford, Bremen, Drakesboro, Central City, Greenville, Calhoun, Dawson Springs, and Madisonville. We're happy to provide delivery to the 42301, 42302, 42303, 42304, 42320, 42321, 42325, 42327, 42330, 42337, 42345, 42347, 42408, and 42431 zip codes. Don't see your city or zip code listed? Get in touch with us by giving us a call at (270) 608-2106 to see how we can help service your area today.

We take pride in keeping our communities waste-free by partnering with small businesses, organizations, facilities, residents, and Owensboro Public Schools to ensure our public and private spaces are enjoyable places to be. It's our goal to offer accessible options for a dumpster rental near Owensboro KY so that our cities continue to prosper as pleasant and welcoming places to visit and live.
Owensboro KY Roll Off Dumpster Rental FAQs
Customers often have questions about an Owensboro KY roll off dumpster rental and we have the answers. Take a look at our frequently asked questions below and get in touch with us if you need more information before scheduling your container rental with our team of experts today! We're here to help guide you through the process and make waste disposal as hassle-free as possible.

1) What are the most common uses for temporary dumpster rentals?

Homeowners often use our bins for their cleanouts, remodeling, landscaping projects, and junk removal. We also regularly deliver our containers to commercial sites for demolition, development, industrial, and other construction projects. Whether you're clearing out the clutter in the garage or managing a foreclosure, renting a roll off dumpster in Owensboro KY is a helpful way to manage the waste in a timely and affordable manner. With the help of our containers, you don't have to make multiple costly trips to the landfill or cause wear and tear to your vehicles.

2) Can I order additional dumpsters?

If your dumpster is full before your project is complete, call our office to schedule an empty and return service or to purchase more tonnage for your rental.

3) Do I have to be present for delivery and pickup?

No, you do not need to be present for delivery or pickup. As long as we have good placement instructions and contact numbers if we have questions. Our team of experienced and careful drivers will deliver the bin to your specifications, being mindful of mailboxes, driveways, parked cars, and any other potential obstructions when dropping off your budget dumpster rental Owensboro, KY contractors and homeowners depend on.

4) How much does it cost to rent a container?

Our prices vary based on the size of the container, the rental timeframe, and the amount of waste being hauled away. Our 13 yard begins at $365 while our 20 yard begins at $465. We understand many folks are searching for the cheapest dumpster rental Owensboro KY has to offer, but along with cost-effective solutions, we prioritize helpful customer support, on-time delivery, and versatile options that meet the needs of our commercial and residential clients. We're confident we have a reasonably priced solution to your waste disposal needs.

If you have any additional questions about our Owensboro KY roll off dumpster rental options, feel free to give us a call at (270) 608-2106 or browse our website to learn more about pricing, dimensions, and other policies.
Owensboro KY City Dumpster Rental Customers Rave About
Our top-quality Owensboro KY City dumpster rental options have earned repeated business and 5-star reviews from our amazing customers over the years. We're grateful to have played an integral role in the success of residential and commercial projects by providing reliable, affordable, and convenient solutions to our customers' waste disposal needs on a short or long-term basis.

Whether you're sprucing up your yard, clearing out the garage, or starting a home renovation project, we're confident we have the perfect container to help support your project in a timely and cost-effective way. Take a look at what our previous customers have to say about their experience with our team below! You don't have to spend hours searching for a dumpster rental near me when the pros at WKY Dumpsters are ready to help streamline your work site and get you set up today. Use our online schedule tool to book a dumpster anytime, anywhere!