#1 Services for Junk Removal Drakesboro KY Trusts
WKY Dumpsters provides the area with the #1 services for junk removal Drakesboro KY has to offer. We've created an affordable option to get rid of the junk without having to handle the heavy lifting on your own. When area residents and businesses have bulky unwanted items they want to be removed and need a helping hand to manage the waste, they call our experienced and friendly team to load their junk, haul it away and dispose of it in a responsible manner.

We are a local veteran-owned company that supplies services for junk removal Drakesboro KY can count on. We're happy to offer our services in Drakesboro, Kentucky, and the surrounding areas of Ohio County. Check out our junk pricing guide for an accurate estimate for your particular removal needs and set up a free, no-obligation on-site estimate. Schedule a time that is convenient for you and our team will arrive to load the items onto the truck and haul away your trash, appliances, or furniture in no time, saving you time, energy, and resources in the process.

Our options for junk removal Drakesboro KY can count on are extensive and all-inclusive. Book your junk removal appointment and we'll haul everything away from your curbside, garage, driveway, office, or home. We offer transparent pricing by truckload or item, depending on the amount of waste you'd like removed by our friendly team of professionals. Call us today at (270) 608-2106 or use our online system to be on your way to a better junk-free life!
Why Choose Us for Junk Removal in Drakesboro KY
When you call WKY Dumpsters for your junk removal service Drakesboro KY can count on, you'll be blown away by our exceptional service and cost-effective rates. We have a friendly team here to help you with your junk removal goals as a home or business owner. We make it super simple to book a free consultation and be on your way to clearing your space in no time. Whether you're preparing for a move, managing a hoarding cleanout, or starting an intensive residential clean-out project, we're here to help.

Over the years, we've earned the trust and repeat business of our amazing customers by going above and beyond to provide premier service, no matter the scale or scope of a project. Whether you need a single item hauled away or an entire office park, our dedicated and efficient team is here to handle the heavy lifting. We're the all-encompassing junk removal service Drakesboro KY depends on to clear the way and leave your home or business looking its absolute best. We strive to repurpose and recycle whenever possible, prioritizing environmentally sustainable practices with our Drakesboro Kentucky junk removal.

Take the first step to reclaiming your space by scheduling your free, no-obligation on-site estimate with one of our junk specialists. With a few easy clicks, you'll be on your way to having any clutter, junk, or waste taking up room in your home or office removed in a convenient and affordable way. Click the "Junk Removal" button in the menu bar to schedule a consultation today or give us a call at (270) 608-2106!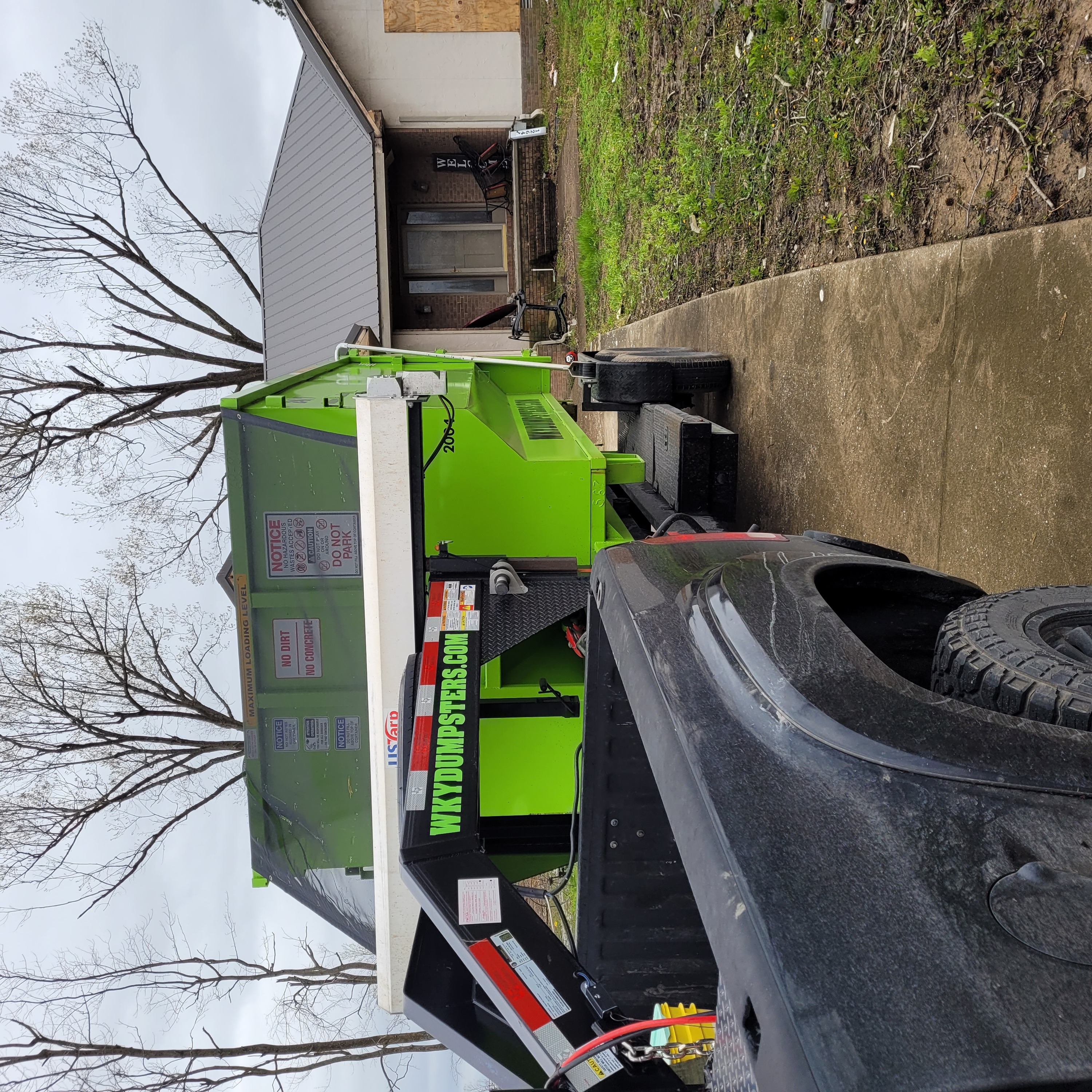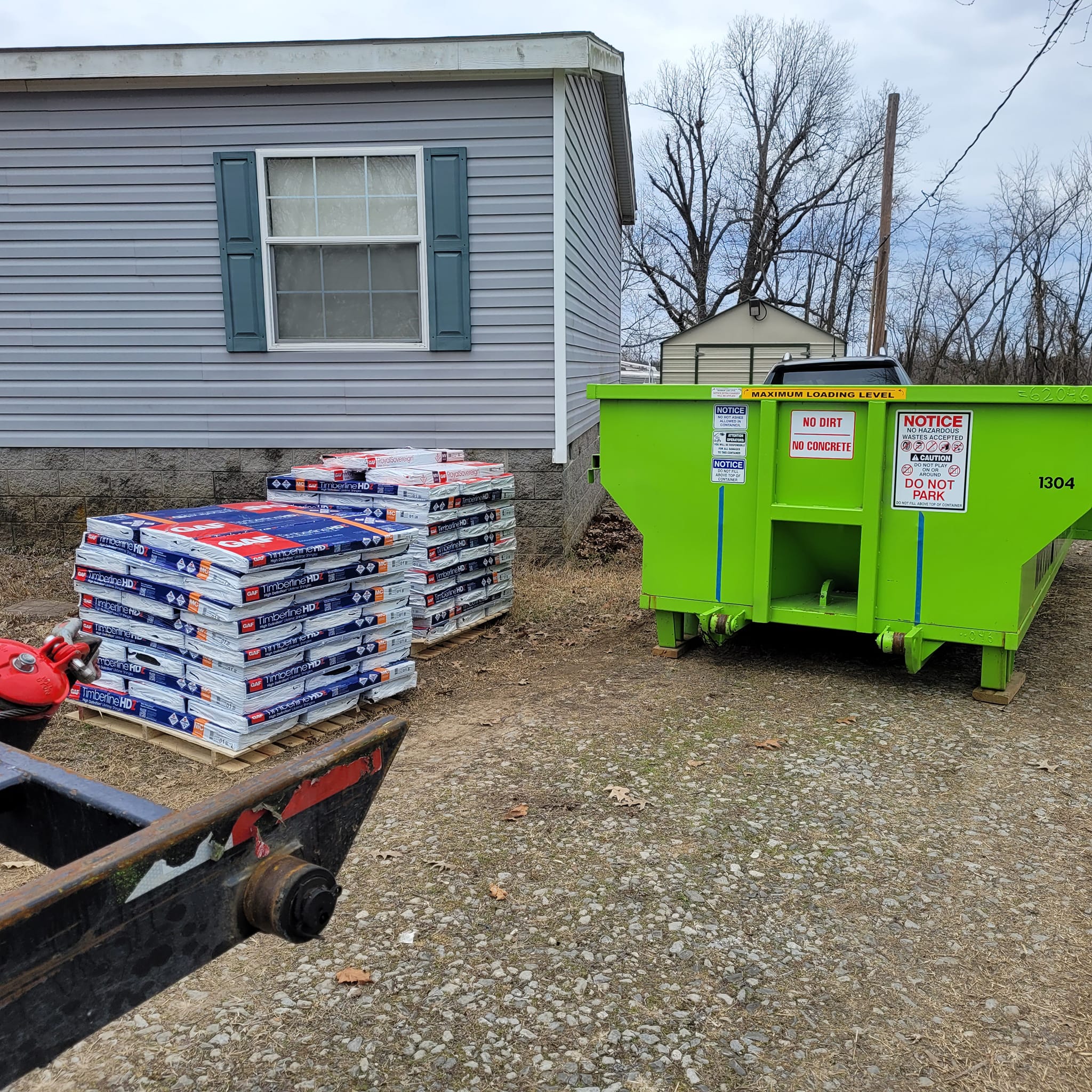 Variety of Uses for Junk Removal Drakesboro KY Relies On
WKY Dumpsters offers comprehensive junk removal in Drakesboro KY that area residents can count on. If you have furniture, appliances, mattresses, or plain old trash to have hauled away, our specialists will arrive to load and haul it away disposing of it properly in accordance with all city, county, and state regulations at Ohio County Landfill.

Along with top-notch waste disposal services, we offer dumpster rentals for those that are ready to take on the decluttering and load the trash themselves. If you have junk or garbage to be removed from your premises and a dumpster just won't work for you, we have the full-service solution. Get the up-front pricing and service that you can count on. Call us for your affordable junk removal today!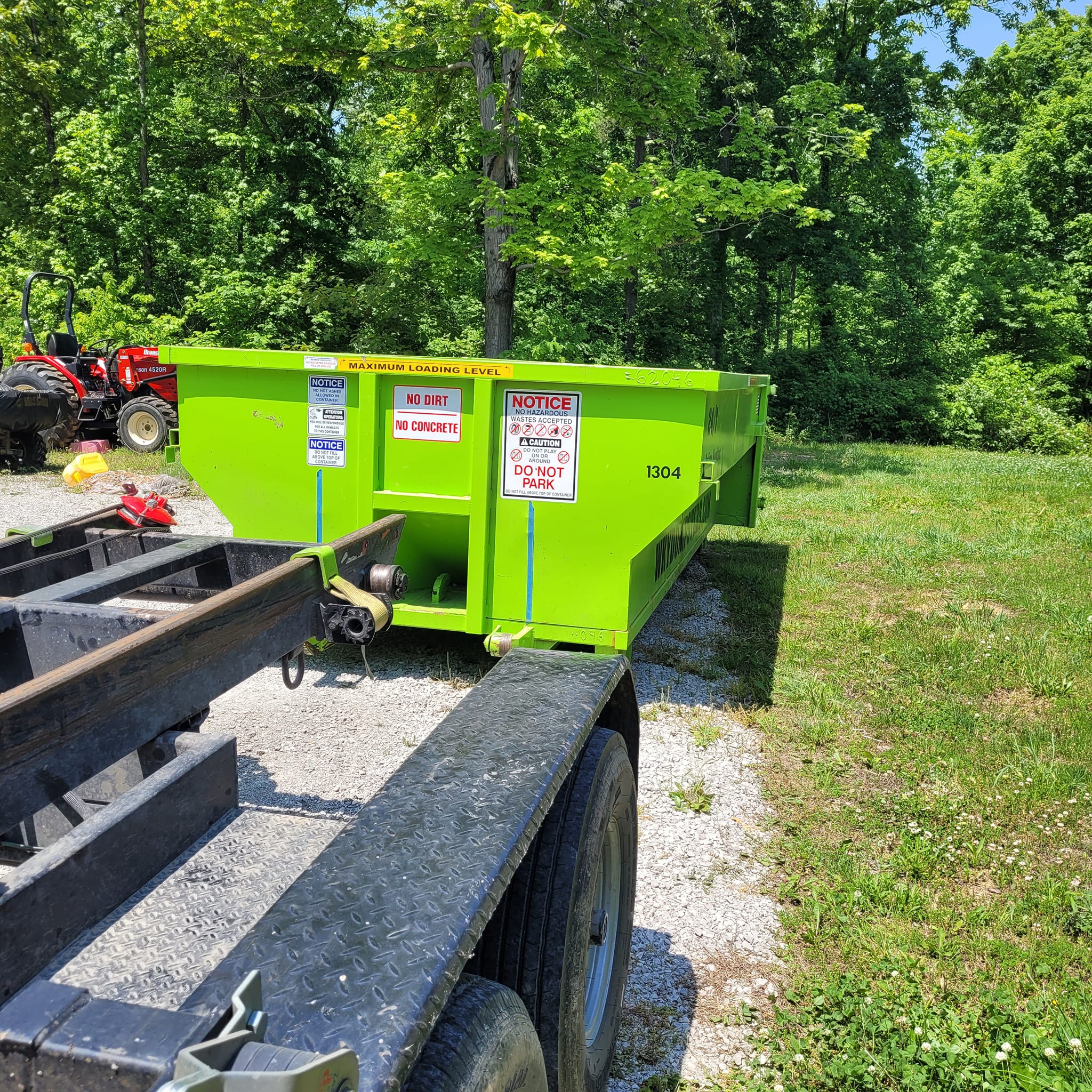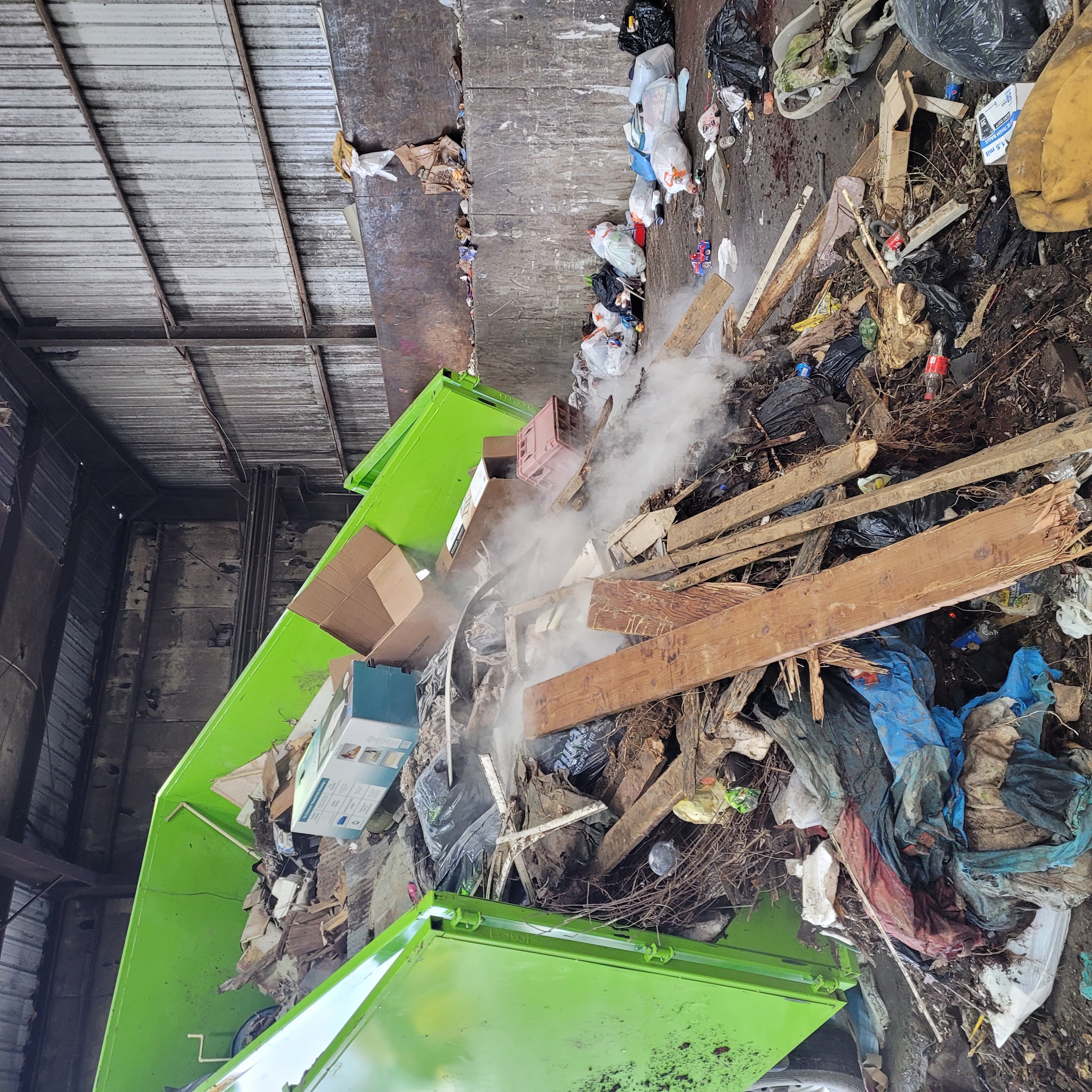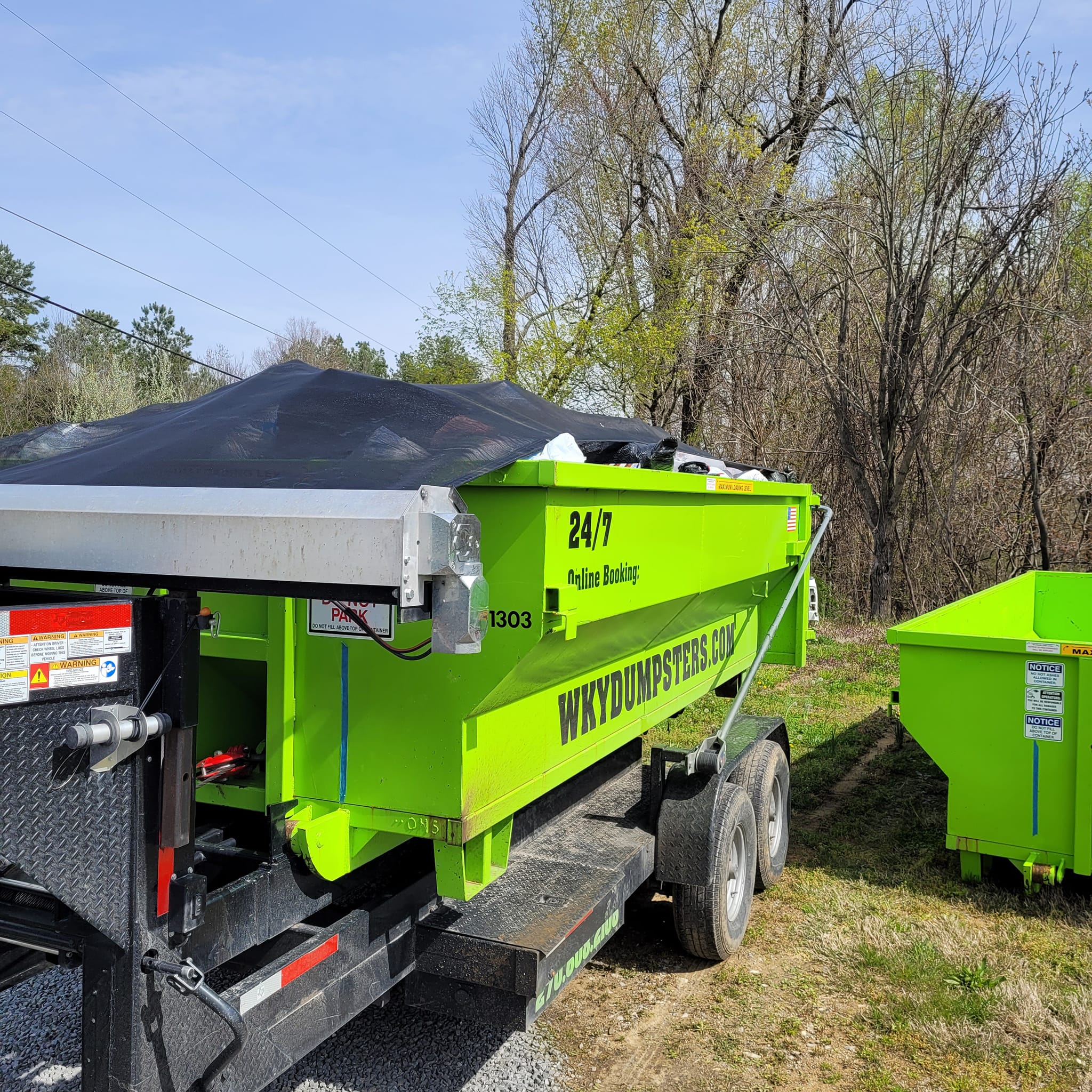 How to Book Junk Removal Drakesboro KY Residents and Business Owners Trust
Booking our services for junk removal Drakesboro, KY residents and business owners trust couldn't be any easier. We offer two convenient options for scheduling your free consultation: Call our team at (270) 608-2106 or follow the instructions below for scheduling your on-site estimate.

1) From any page on our website, click the lime green "Book Now" button.
2) Click the lime green "Schedule Service" button in the Junk Removal column.
3) Scroll down to our calendar, choose the best date for your pick-up, and choose an available time slot.
4) Describe the items you'd like removed.
5) Input your address and the location of the junk (at the curb, in the garage, etc.).
6) Input your contact information then click the lime green "Submit" button.

Once you input the above information, our team will be in touch to confirm a date for the best junk removal Drakesboro, KY has to offer. Our team will arrive and provide an estimate for your particular waste removal needs. If you're good with that price, we'll start hauling things away right then and there! There's no need to spend hours searching for the #1 junk removal near Drakesboro KY. Our professionals will take it from here.

View our "Junk Pricing Guide" for more information about general estimates for our waste removal in Drakesboro KY. We price by the truckload or individual items and the support of one of our skilled junk specialists is included. The final price will be determined by our staff on-site, but our guide is a helpful starting point to determine an estimate for your needs. Feel free to give us a call at (270) 608-2106 to learn more directly from our team!
We Take Just About Everything
Some examples of the junk we haul away include
Refrigerator Disposal

Garbage Removal

Mattress Disposal

Foreclosure Clean Outs
Construction Waste Removal

Yard Waste Removal

Trash Removal

Appliance Removal
Television Disposal & Recycling

Furniture Removal

E-Waste Disposal

Hot Tub Disposal
Providing Junk Removal Drakesboro Kentucky Counts on to Surrounding Areas
For the best junk removal Drakesboro Kentucky can count on, choose WKY Dumpsters! We comply with all local and county regulations because we care about responsible and environmentally-safe trash disposal. We proudly serve the communities of Owensboro, Beaver Dam, Hartford, Bremen, Central City, Greenville, Calhoun, Dawson Springs, and Madisonville. We're happy to offer pickup for the 42321 and 42337 zip codes in Muhlenberg County.

Searching for junk removal near me and don't see your city or zip code listed? Give us a call to talk about getting our removal pros out to you. Choose the trusted provider of junk removal Drakesboro Kentucky residents and business owners rely on to support a variety of waste removal needs. Schedule a free consultation using our website or give us a call at (270) 608-2106 to discuss your options with one of our team members today!
Drakesboro KY Junk Removal FAQs
You might have questions about our Drakesboro KY junk removal services and we have answers! Take a look at a selection of our frequently asked questions below and get in touch with our helpful team if you need more information before scheduling your consultation. We're here to guide you through each step of the process and make sure no stone is left unturned when it comes to your confidence in our abilities.

1) Are there items that your junk removal team cannot take?

Our services for waste removal in Drakesboro KY are able to We are happy to take questions about specific items, but here are a few hazardous items that require special attention and are not able to be hauled away through our services including explosives, gasoline, motor oil, medical waste, mercury products, bleach, liquid paints, and ammunition. Again if you have particular items in question, it's best to call and we can go over the options ahead of time. You can even send us a photo if you're uncertain what some materials are.

2) Do I have to do any of the heavy lifting?

Absolutely not! With our full-service Drakesboro KY junk removal team at hand, we'll handle all of the work. Just show us what needs to go and we take it from there. This service is great for anyone that is unable to lift and carry or does not have the time to spend making trips to the landfill or recycling centers. We can even make arrangements so that you do not have to be present during the junk removal pick-up if need be. If you've been searching for an all-inclusive junk removal service near me, look no further than with our team of professionals!

3) How can I pay for junk removal near Drakesboro KY?

We accept all major credit and debit cards as payment, as well as cash. Schedule your free, no-obligation on-site estimate to receive an exact quote for your particular needs, or take a look at our pricing guide for a general estimate per truckload or item.

4) How much does it cost to hire junk removal services?

Depending on how much junk you need removed, our price point varies. We offer a free, no-obligation estimate so you can get an exact price point for your particular needs. We understand many people are searching for free junk removal in Drakesboro KY, but we work diligently to provide top-notch services at affordable rates. We remove junk in a safe, responsible, and ethical manner, ensuring your waste is disposed of at the local landfill or recycled whenever possible.

WKY Dumpsters has made full-service junk removal as easy as a few clicks or a simple phone call. Why wait? We're confident we can provide the high-quality Drakesboro junk removal service you need to help get you on the right and clear away the clutter today. Get in touch with our friendly team or schedule your consultation through our website today!
5-Star Reviews for Drakesboro Junk Removal Services
Our happy customers can't stop talking about the Drakesboro junk removal services we provide and we appreciate their continued business more than we can express. Whether you're downsizing and preparing for a move or managing a foreclosure, our team of professional and experienced movers is available to help you haul everything or manage the heavy lifting entirely on our own.

Take a look at our guide before booking our services or schedule a free on-site estimate so we can provide accurate pricing for your particular needs. We've created a reputation as one of the go-to junk removal companies in Ohio County by prioritizing transparent pricing, friendly customer service, and helpful services that manage the mess so you can focus on more important things. Read through a selection of our 5-star reviews below and book your junk removal consultation today!